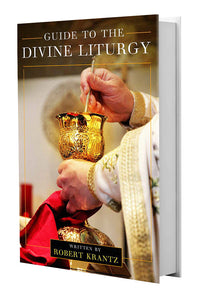 Finally! A book you can take to church that has the entire Liturgy in it and will explain each step as it occurs!
Yia Yias and Papous, Mothers and Fathers, would you like to have a better understanding of what is happening during the Divine Litrugy? Would you like your children and grandchildren to understand the Divine Liturgy and help them stay in the faith? Do you know someone who is thinking of converting to Orthodoxy and would want to know more about the service? This book is a guide to what is happening and why it is happening during the entire Divine Liturgy. You can take this 6" x 9" book with you to church and follow along! On the right hand side of the book is the Divine Liturgy in Greek and English. On the left side, we explain what is happening and why it is happening. Learn what an Antiphon is, what The Creed is and why we say it, what parts of the Liturgy are from the Bible, why the service is separated into "Liturgy of the Word" and "Liturgy of the Faithful", what the Trisagion hymn is and why it is in the service, why we believe there are angels present during the Divine Liturgy and much, much more! You will be inspired! Church Discounts Available!
How many of these questions can you answer?
• At what point does the bread and wine become the body and blood of Christ?
• What is the Liturgy of the Word and the Liturgy of the Faithful?
• Who wrote The Creed? When and why did it become part of the service?
• What is the Holy Anafora?
• When we receive Andidoron, is it the body of Christ?
• What is an Antiphon?
• What is the Great Litany?
• What is the Trisagion Hymn and what part of the bible is it taken from?
• Are we an Evangelical church?
• Why does the Priest say, "The doors! The doors! Guard the doors!"?
You will learn these answers and much, much more when you get this book!