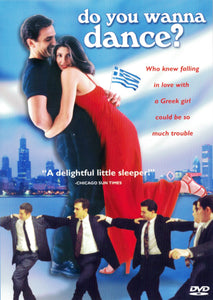 Billy Duncan (Robert Krantz, FAITH, HOPE & LOVE) is a dance instructor who has fallen on hard times. After a misstep with the law, a judge sentences him to serve 500 hours of community service. His assignment? Giving dance lessons to the Yia Yias and Papous at a local Greek Orthodox Church. Not exactly what Billy had in mind. But soon Billy, the "xeno", finds himself falling in love with Alexia Constarakis (Patricia Skeriotis) the daughter of a wealthy parishioner, and with the help of Father Chris (Robert Costanzo), the Church's off-beat, charismatic Priest, Billy is inspired into teaching dance again, and taking a chance on love.


Special Features:
- Includes nearly 45 minutes of exclusive Behind the Scenes interviews and footage.
- Commentary track by writer and star Robert Krantz.
- Original audition tapes of Actors.
- Theatrical trailers of the movie.