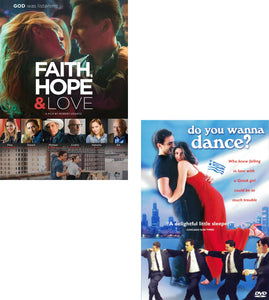 Faith, Hope & Love - DVD
Faith, Hope & Love is a faith-based, romantic-comedy about two broken hearted people who get a second chance at romance when they become partners in a Pro-Schmo dance contest.
Faith Turley (Peta Murgatroyd, Dancing with the Stars), has recently divorced her unfaithful husband and enters a Pro-Schmo dance contest trying to raise money to save her dance studio. She partners with Jimmy Elpidas (Robert Krantz, Back to the Future), a single father, who lost his wife in a car accident, several years ago. Over the next few months, on and off the dance floor, she teaches Jimmy to have hope, again, he helps her to have faith once more and together they learn how to love, again.
The movie also stars Corbin Bernsen (L.A. Law), Ed Asner (Lou Grant), Aria Walters (Malibu Dan), and Maks Chmerkovskiy (Dancing with the Stars). Also includes outstanding original music and dance numbers, including choreography by Murgatroyd and Chmerkovskiy!
Special Features:
- Cast interviews with Corbin Bernsen, Michael Richards, Robert Krantz, and Maksim Chmerkovskiy
- Behind The Scenes Promo
- Outtakes Footage
- Deleted Scene
Do You Wanna Dance? - DVD
Billy Duncan (Robert Krantz, FAITH, HOPE & LOVE) is a dance instructor who has fallen on hard times. After a misstep with the law, a judge sentences him to serve 500 hours of community service. His assignment? Giving dance lessons to the Yia Yias and Papous at a local Greek Orthodox Church. Not exactly what Billy had in mind. But soon Billy, the "xeno", finds himself falling in love with Alexia Constarakis (Patricia Skeriotis) the daughter of a wealthy parishioner, and with the help of Father Chris (Robert Costanzo), the Church's off-beat, charismatic Priest, Billy is inspired into teaching dance again, and taking a chance on love.


Special Features:
- Includes nearly 45 minutes of exclusive Behind the Scenes interviews and footage.
- Commentary track by writer and star Robert Krantz.
- Original audition tapes of Actors.
- Theatrical trailers of the movie.