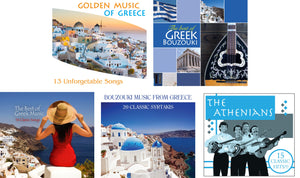 The Athenians - CD
The fabulous Athenians are considered to be one of the greatest Greek singing and instrumental groups of all time. Listen to their timeless compositions, melodic harmonies and bouzouki solos and you will understand why.
On this CD, you'll hear 15 classics including: Ela-Ela, To Kapi, Solo Nicolopoulos, Chassaposerviko, Mastro Vassilis, Elikoptero and many more! Sit back and enjoy the fabulous Athenians.
The Best of Greek Bouzouki - CD
Bring home the classic sound of Greek Bouzouki featuring world renowned Bouzouki player, Michalis Terzis. We have compiled 16 outstanding Bouzouki selections that will have you dancing and reminiscing to the sound that has moved Greeks for generations. What a great gift to give Yia Yia or Papou or anyone in your family who is moved by the classic sound of Bouzouki music.
The Best of Greek Music - 14 Classic Songs - CD
This cd contains 14 of the best Greek songs that so many of us grew up singing to. Songs like: Epipoleos (Etsi Eme, Etsi Kaneh!), Milise Mou, Dringi Dringi Mana Mou, Thessoloniki, Delphni – Delphinaki, Ta Trena, To Paploma, Ftohologia, To Yelekaki, Eirini, Lefteri – Lefteri, Egnatias 406, and Tarzan!
Wow. What a great compilation of the songs we love to sing. You are and your parea will love signing along with these wonderful, classic hits. Enjoy, enjoy, enjoy!
Golden Music of Greece - CD
This CD contains 14 classic Greek songs everyone loves to sing along with: Ama thes na figes fige, Varko Sto Yialo, Ta Pedia to Perea – theme from Never on a Sunday, Sega Sega, Maria meh ta Kitrina, Po Po Po Maria, Nina Nai, Zelevo, Misourlou, Kira Georgena, To Papaki, Samiotisa, Diri Dahta, and Orea Pou ene e Nifi mas! From the first song to the last note, you will be singing along with this classic golden music from Greece. You are going to love this CD!
20 Classic Syrtakis - Bouzouki Music - CD
This CD contains 20 of the greatest syrtakis ever compiled. From Zorba the Greek to Siko Chorepse Syrtaki, you and your friends will be dancing and reminiscing to these unforgettable, energetic bouzouki classics.