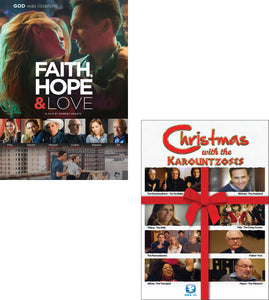 Faith, Hope & Love - DVD
Faith, Hope & Love is a faith-based, romantic-comedy about two broken hearted people who get a second chance at romance when they become partners in a Pro-Schmo dance contest.
Faith Turley (Peta Murgatroyd, Dancing with the Stars), has recently divorced her unfaithful husband and enters a Pro-Schmo dance contest trying to raise money to save her dance studio. She partners with Jimmy Elpidas (Robert Krantz, Back to the Future), a single father, who lost his wife in a car accident, several years ago. Over the next few months, on and off the dance floor, she teaches Jimmy to have hope, again, he helps her to have faith once more and together they learn how to love, again.
The movie also stars Corbin Bernsen (L.A. Law), Ed Asner (Lou Grant), Aria Walters (Malibu Dan), and Maks Chmerkovskiy (Dancing with the Stars). Also includes outstanding original music and dance numbers, including choreography by Murgatroyd and Chmerkovskiy!
Special Features:
- Cast interviews with Corbin Bernsen, Michael Richards, Robert Krantz, and Maksim Chmerkovskiy
- Behind The Scenes Promo
- Outtakes Footage
- Deleted Scene
Christmas With The Karountzoses - DVD
On Christmas Eve, Michael Karountzos finds out he didn't get his anticipated promotion and must now deal with fourteen Greek relatives at his dinner table. All the relatives over for Christmas. What could possible go wrong?

The perfect gift to give anyone in your family! This movie is 1 hour and 45 minutes of laughter and joy. Appropriate for all ages - a movie the entire family can watch!