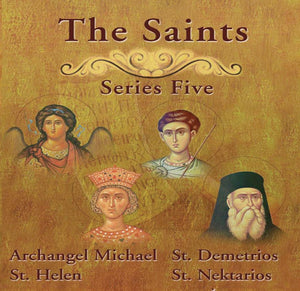 The Saints: Series Five. Orthodox priests and iconographers discuss the life and significance of these incredible Saints.
Learn why the Orthodox faith believes in angels; when each of us is personally assigned a guardian angel; how God has put into existence the nine orders of angels; why the Archangel Michael was given his name which means "who is like God," and more!
Learn what events transpired that led to St. Helen, as a teenager, to give birth to Constantine; what dramatic events caused her husband to divorce her; what tragic events caused St. Helens to go on a pilgrimage late in her life; how St. Helen figured out where the Holy Cross of Christ was located, and more!
Learn how St. Demetrios rose up to become the Governor of Thessalonika; what order from the Emperor did St. Demetrios refuse to follow that led to his imprisonment; how St. Demetrios and St. Nestor were able to defeat Lyaes, known as the "Second Goliath," in a death match in front of the Emperor, and more!
Learn why St. Nektarios is considered to be the saint for cancer patients; what rumor caused St. Nektarios to be exiled from Egypt penniless and heartbroken; what vision did St. Nektarios have that encouraged him to continue on; see the actual photographs that were taken of this great Saint!
Runtime: 120 Minutes